Traveler Information Page
Reading multiple data sources and customizing your page - Just a moment please....
US Weather Map
US Airport Map
Delays at a Glance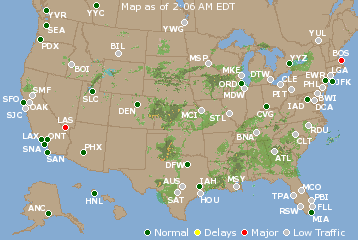 Note: Click on any airport listed above to open a new window with detailed information.

Selected Industry News
Turnaround specialist Walsh takes over IBM storage - TechTarget (blog)
30 Jun 2016 at 4:19pm

EMC pitches isolated data recovery to thwart cyber attacks - TechTarget (blog)
28 Jun 2016 at 3:33pm

EMC Releases Isolated Recovery Solutions To Combat Hackers - StorageReview.com
29 Jun 2016 at 1:17pm

How A Worldwide Decline In Storage Systems Sales Impacts EMC - Forbes
13 Jun 2016 at 1:54pm

HDS freezes high-end storage hardware investment - The Register
7 Jun 2016 at 5:59am

Flash wars: EMC, NetApp, HPE, Pure Storage & IBM push to make 2016 the year o...
20 Jun 2016 at 1:20pm

How Valuable Is EMC's Information Storage Business? - Forbes
1 Jun 2016 at 8:38am

IBM Named a Leader in Gartner Magic Quadrant for Disaster Recovery as a Servi...
21 Jun 2016 at 12:02pm

Catalogic copy management adds Oracle, SQL, EMC Unity support - SiliconANGLE ...
28 Jun 2016 at 8:49am

IBM Spectrum Storage platform adds analytics software - TechTarget
2 Jun 2016 at 2:36pm

Are You Spending Enough on Business Continuity?
Business continuity planning and disaster recovery capabilities can be a tough sell because they do not contribute to the bottom line. Spending on business continuity preparedness can be an open-ended proposition--there is always more ...
Computer Economics Research Bytes - http://www.computereconomics.com

Mainframe Group Gains Momentum
Washington Post - United States
ZNextGen,an organizationaimed at young mainframe programmers, has gained significant momentum since it was created roughly two years ago through IBM and its ...


Mainframes given new lease of life

Techworld.com - London,UK
By Chris Kanaracus, IDG news service Up to three-quarters of an enterprise data is managed or stored on a mainframe. Research by IBM user group SHARE has ...

2008 Outlook: Storage and the Midmarket

CTR - Los Angeles,CA,USA
Business drivers for network storage include areas such as regulation, disaster recovery planning and cost reduction through consolidation, to name just a ...
See all stories on this topic

COBOL coders needed again as mainframe projects increase
ITBusiness.ca - Scarborough,Ontario,Canada
Mainframe installation projects are growing by about five per cent a year, according to a recent report from Deloitte Canada in Toronto. ...

HDS: Storage Software> Hitachi Business Continuity Manager ...

Hitachi Business Continuity Manager Software for IBM z/OS offers centralized ... Universal Storage Platform · Disaster Recovery Issues and Solutions ...

Innovation Data Processing is recognized as a leader in providing ...

Innovation Data Processing is recognized as a leader in providing storage solutions for OS/390. and z/OS users for more than 30 years. ...

HDS: Storage Software> Hitachi Business Continuity Manager ...
Hitachi Business Continuity Manager Software for IBM z/OS offers ... Enhancing IBM Tivoli Storage Manager with Virtual Tape Library Solutions by HDS ...

EMC: Products: Solutions: EMC Mainframe
All from the ISPF screen—using EMC z/OS Storage Manager. Increase operational efficiency. ... Pund-IT: EMC Introduces Automated Disaster Restart Solution ...

IT security market to grow
iAfrica.com - Cape Town, South Africa
IT security is now regarded as one of the critical areas of business continuity planning, with a growing focus on data security and integrity," said ...
See all stories on this topic



BCP/DRP:

Conducting business Impact Analysis, Identify controls, Develop recovery strategy, plan testing, emergency contact tree, training and user awareness, and plan review and maintenance for development of business continuity and disaster recovery plans (BCP / DRP). Design and implementation of advanced recovery facilities including GDPS, XRC, PPRC, Global Mirror and Global Copy.

ITIL/ITSM

Consulting practice that is focused on keeping your project on track and cost-effective. Blending existing IT process maturity and (ITIL) IT Services Management to develop and support an IT Governance Framework that will enable a long-term sustainable Business Resilience with IT Governance to optimize compliance with SOX and other regulatory requirements like GLBA, HIPA and IT investment performance.

Introducing NASRP: The National Association of Systems and Recovery Professionals

The only professional membership organization dedicated to the Enterprise Systems and Disaster Recovery / Business Continuity (DRBC) professional. Enterprise Storage and Business Resilience are strong topics as is the proper application of process to the IT environment. Technical whitepapers of our members are featured and presented as a benefit to the Information Technology audience as a whole.
email: info@nasrp.com



This document was printed from http://www.nasrp.com/



Sitemap | Privacy Statement
NASRP - All rights reserved. 2012
The National Association of Systems and Recovery Professionals
People helping people
Guiding Information Technology towards True Business Continuity
one Enterprise at a time.